We are delighted to once again be holding our Bluegrass Festival at the multi award winning Hendra Holiday Park Newquay.
We will again be using Hendra's fantastic 500 Seater Cabaret Room & by adding an 80 x 30 foot heated performance marquee we hope to ensure that everyone will get the chance to see their favourite bands. Added to this we will again have a late night bar for those who want to play into the early hours.
True to form, we will be holding a variety of instrument, dance & singing workshops & there will be Appalachian Dancing exhibitions throughout the weekend.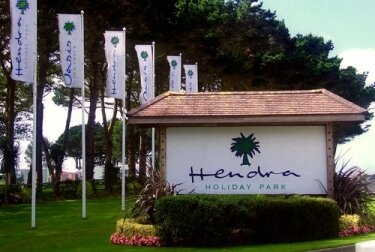 Hendra offers a choice of indoor or outdoor swimming pools so whatever the weather you can start the day with a swim! All pools are attended by qualified lifeguards. The indoor pool includes:
- 3 Fabulous Water Flumes
- Hendra River Rapid Ride
- Water Cannon
- Fountains
- Waterfall
- Toddlers Area
- Giant Tap
- Toddlers' slide
- Air Lounger
If you feel that camping is not for you, why not take advantage of one of Hendras incredible award winning mobile homes. You can hire a 4-6 or 6-8 berth, please contact Carolyn and Nigel for prices.
Included in the price is a shower, toilet, a fully equipped kitchen, lighting and heating. If you want to reserve a van now then please contact Nigel and Carolyn, whose details are on the contact us page! Special prices are only available through the CBA and, as with the festival tickets, numbers are limited, so we urge you to book as early as possible.
We are mindful of the soaring cost of fuel and the distances some people travel to be with us, so we strive to keep our ticket prices as affordable as we possibly can. The prices for a full weekend adult ticket can be found here - with FREE ENTRY to children under 16 & Free entry on the Sunday.
We think that our ticket price for a Bluegrass weekend in Sunny Cornwall is worth every penny & is also extremely competitive with other festivals in the country - after all, who else offers five star award winning shower and toilet facilities with their pitch plus an indoor heated wave pool.

So, in anticipation of some wonderful weather and with your continued support we look forward to seeing you again, or meeting you for the first time, for another truly memorable festival in our beautiful part of the world.
Moss Drew
Chairman - CBA